Hwangtot-gil Trail on Gyejoksan Mountain for a Healing Walk in Bare Feet
Although most of us get to enjoy more convenience and abundance these days, we also face a great deal of stress amid our frenetic schedules that make us physically and mentally drained most days. This is perhaps why videos that are supposed to provide a "healing" experience under the concepts of travel, camping, music and so on are all the rage on YouTube and people are seeking a work-life balance and ways to reduce the noise and stress levels in their lives. One of the solutions that people have found is to get away from the hustle and bustle of the city and relax in the arms of Mother Nature to heal their bodies, minds, and souls.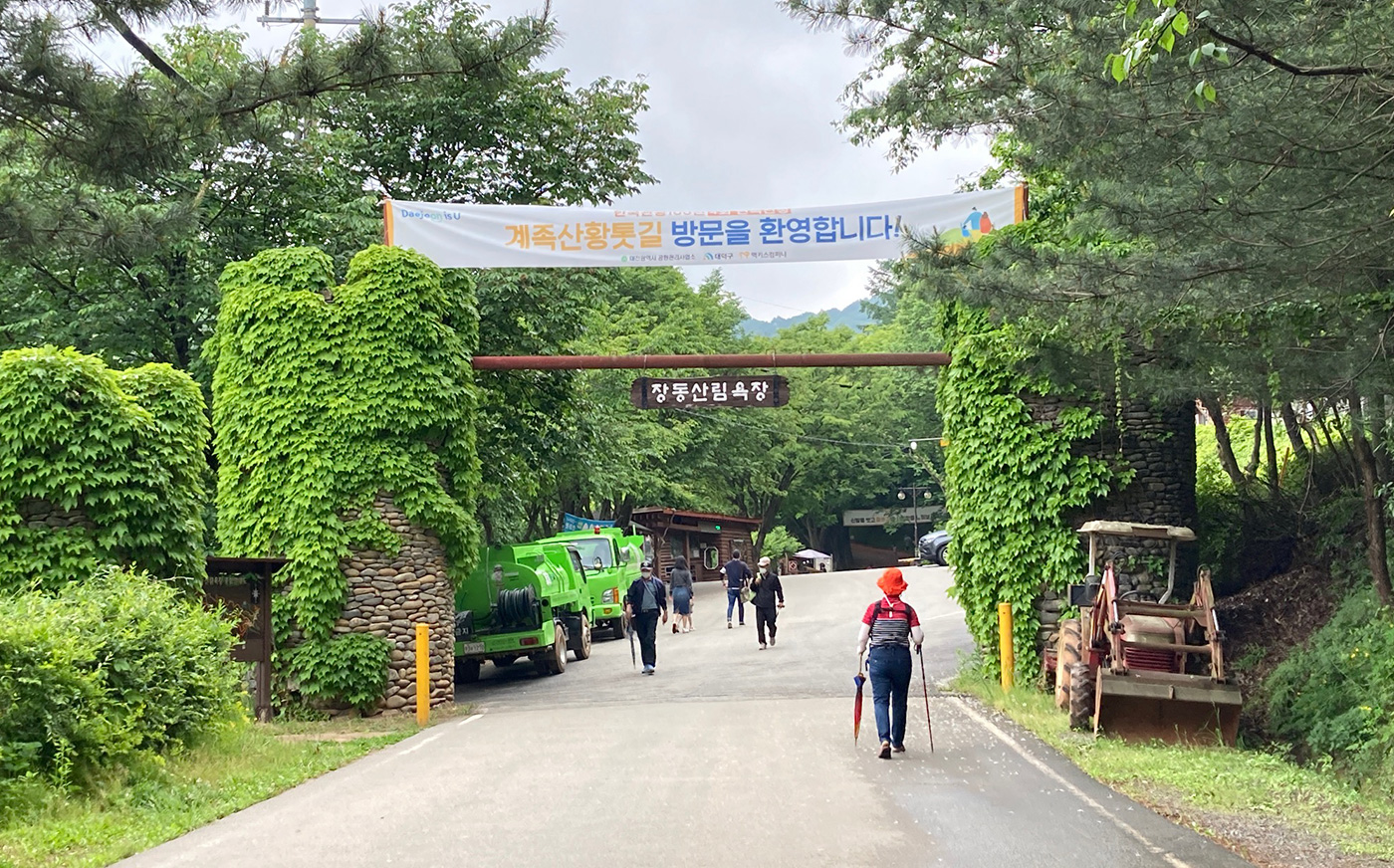 In Daejeon, there is a trail that will most certainly provide a healing experience: Hwangtot-gil Trail on Gyejoksan Mountain. This is the loess trail on Gyejoksan Mountain, which has been given its name because of its shape that is reminiscent of a chicken foot. Immediately at the entrance, you will see people walking barefoot on the loess trail or washing the yellow-colored soil off their feet in the foot-washing station. It may be a strange sight at first, considering that it is unusual to see people walking barefoot outdoors, but most people get used to it quite quickly and remove their own shoes and socks to walk on the 14.5km-long Hwangtot-gil Trail. The unique soil feels soft and moist to the touch, and it will feel as though your feet are being massaged. When you look up, you will see towering trees, which emit phytocides that are known for their positive effects on health, while enjoying the sounds of nature – the rustling of leaves dancing in the wind and the singing of birds – that will take away the fatigue and stress from your city life.

Hwangtot-gil Trail on Gyejoksan Mountain was created by CEO Cho Wung-rae of Mackiss Company, based on an extraordinary experience he had. One day in 2006, the CEO of the Daejeon-based soju maker was hiking Gyejoksan Mountain with friends when he saw a woman in high heels, and he took off his shoes for her. That night, he had a good night's sleep, and the next morning, he woke up feeling extremely refreshed without a hint of fatigue. To share this experience with others, he had loess be placed on a 14.5km trail on Gyejoksan Mountain, which later came to be known as Hwangtot-gil Trail. There is also a performance stage in the middle of the forest that can be accessed through the trail. Although it is currently closed due to COVID-19, it hosted classical music performances every weekend from April to October each year and attracted more than a million visitors with the Gyejoksan Barefoot Festival and Daejeon Bare Body Marathon. As a popular tourist attraction, it was listed as one of the top 100 tourist sites in Korea.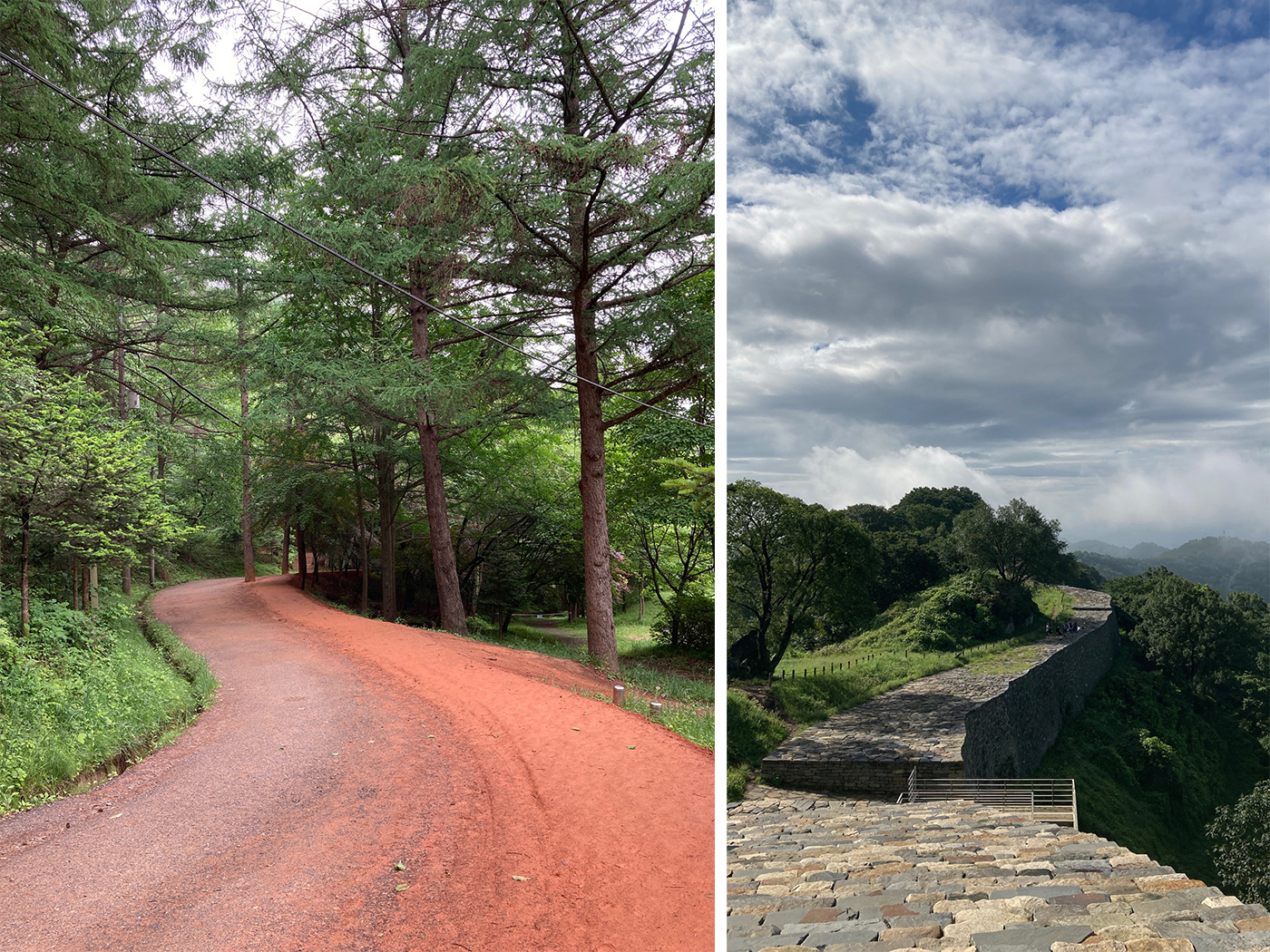 When you walk along the trail for about 20 minutes, you will come across the Gyejoksanseong Fortress (Historic Site No. 355), a restoration of the fortress that was built in the 6th century. Situated 425m above sea level, the fortress measuring 1,200m in length and 7 to 10m in height was originally built to defend the area against foreign invasion, and parts of the wall were restored over the course of 7 years from 2012 to 2019. The site offers an incredible view of the city and surrounding scenery, providing a different kind of healing experience from Hwangtot-gil Trail.

Wash your feet covered in loess at any of the foot-washing stations found along the trail once you are done forest bathing. You will find yourself free of fatigue and stress and be able to sleep like a baby at night. Nature is always ready to welcome us with open arms. If you ever feel the need to escape the everyday drudgery and artificial environment of the city, come visit Gyejoksan Mountain with your family or friends and heal your body, mind, and soul, while walking on Hwangtot-gil Trail.