Samgyetang for Those Who Are Fatigued
from the COVID-19 Pandemic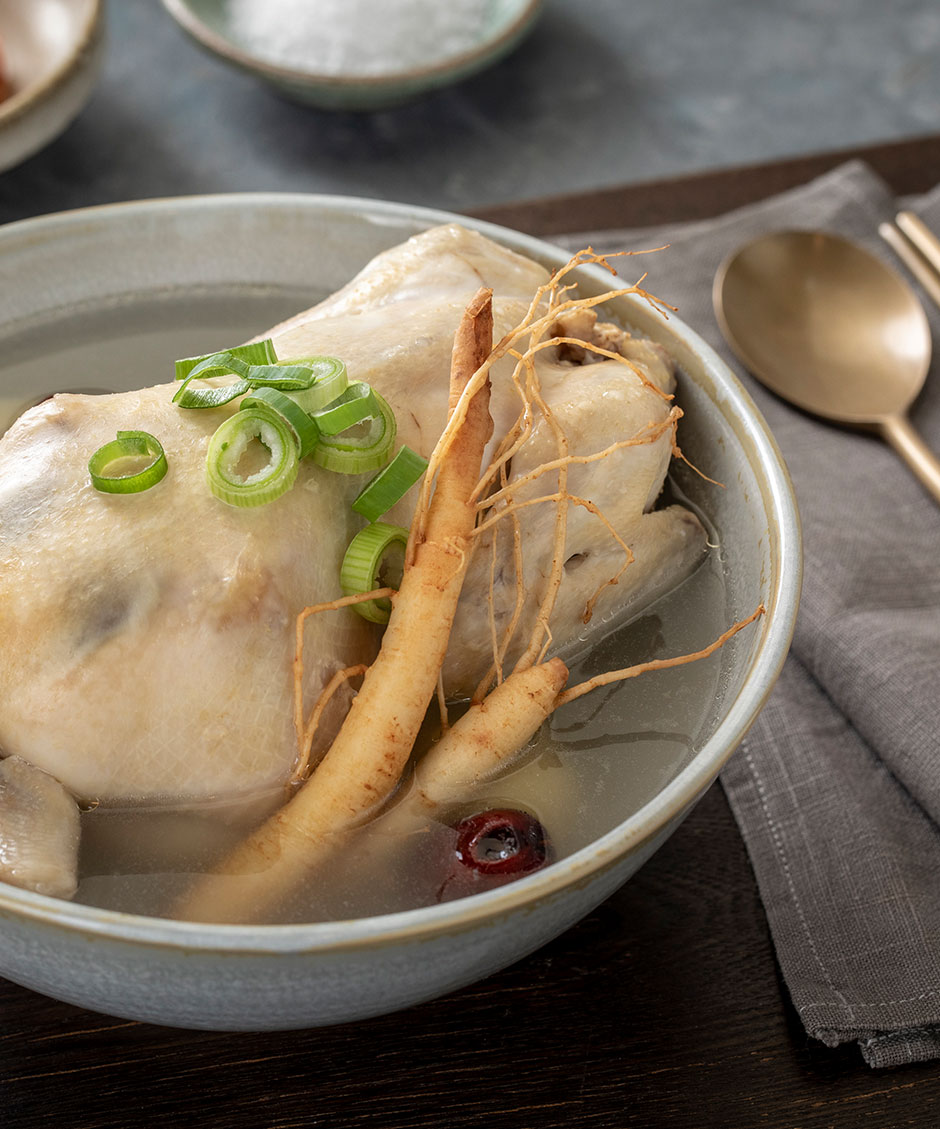 In Korea, there is a long tradition of eating superfoods on the three bok days, chobok, jungbok, and malbok, as a way to boost one's health and energy in the sweltering heat.

Samgyetang, or ginseng chicken soup, is made by boiling chicken with ginseng, garlic, jujubes, chestnuts, glutinous rice, pine nuts, and so on, and it is one of the most popular dishes eaten by those who are exhausted from the summer heat. When the temperature rises to extreme levels in summer, our body loses water, minerals, and other substances via perspiration. By eating samgyetang, made with protein-rich chicken and other nutritious ingredients, we can boost our immune system as well as our energy. Not only that, samgyetang ingredients have warm properties that help protect and soothe the gastrointestinal system from all the cold foods consumed in the summertime.

Samgyetang is a traditional Korean food that has been widely popular since long ago. It is available in a wide variety, ranging from haemul samgyetang (seafood ginseng chicken soup) made with abalone, octopus, blue crab and so on to hanbang samgyetang (ginseng chicken soup with medicinal herbs) and nurungji samgyetang (ginseng chicken soup with scorched rice). That's not all! There are various other types of fusion samgyetang such as yeonip samgyetang (lotus leaf ginseng chicken soup), nokdu samgyetang (mung bean ginseng chicken soup), susam-geotjeori samgyetang (fresh ginseng chicken soup), and doenjang samgyetang (ginseng chicken soup with soybean paste), which can only be enjoyed in Korea.

Samgyetang, of course, contains ginseng, which is registered as Globally Important Agricultural Heritage. Ginseng has anti-aging and anti-cancer properties and promotes metabolic activity, energy, memory, and the immune system. Geumsan in Chungcheongnam-do Province, a 30-min drive from Daejeon, is a famous ginseng producer that hosts the Geumsan Ginseng Festival every October. It is an iconic festival that attracts countless visitors from across the country and the world who come to buy ginseng and try diverse foods and teas made with ginseng.